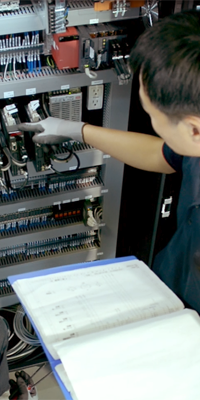 Enterprise Characteristics
Customer-Oriented
We want to offer the best solutions to our client's needs. We will study the optimal solution for each client, offering him what best suits his production methodology.
Flexible model
By making our designs modular and easy to modify, we achieve great flexibility in design and productions, and improve our customers' choices regarding production machinery.
People-Oriented
We value our staff the same way we value our clients. We push them to achieve their best and fulfill their true potential.
Dynamic Youth
Our company environment is well-structured and communicated, and the interdependence between departments excels at bringing out the best in our younger staff.
Grow-by-Learning
The company schedules formation courses in professional technology and foreign languages. Learning new skills allows our staff to grow, both as professionals and as human beings.